Milling Polisher
Milling Polisher
Description
The Satake Milling Polisher KB801-IS cleans the surface of rice, significantly enhancing the quality of finished products. The machine has achieved an excellent reputation in many countries for its high performance and for the innovations which have been incorporated over the past 30 years.
Specifications
| | |
| --- | --- |
| Model | KB8OHS |
| Required Power (kW) | 55,75 |
| Input Capacity (t/h)* | 4.5~7.5 |
| Required Air Volume (m3/min) | 50~ |
| Required Static Pressure (kPa) | -2.5~-1.5 |
| Net Weight (kg) | 910 |
*Input capacity depends an material.
Dimensions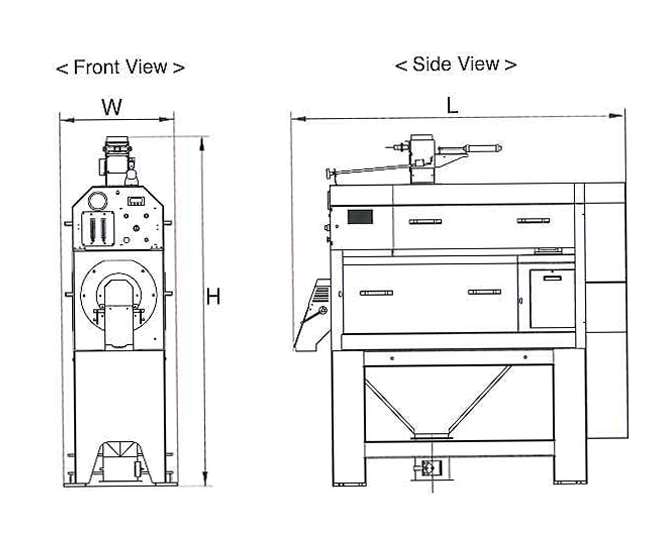 | | | | |
| --- | --- | --- | --- |
| Model | W(mm) | L(mm) | H(mm) |
| KB8OHS | 685 | 2,005 | 2,110 |
* It is recommended to install a Rotary Sifter just before the machine to remove broken grains and branny material for the following cases:
a-When processing white rice to produce the best-polished rice.
b-When using the machine as a rice whitening machine.
Features
1.New Milling Roller:
New milling roller has been developed to further improve the performance of Satake KB series.
2.Increased capacity:
Enhanced conveying and polishing systems provide capacity double that of the KB40G-TA, without increasing installation space.
3.Improves rice quality:
Greater mist-adding capacity controls rice temperature during polishing and allows uniform removal of bran, producing brilliantly white, shiny rice.
4.Easy maintenance:
A redesigned main body side cover greatly improves maintenance efficiency.
5.Easy operation:
The flow control dial is located on the upper part of the front panel for easy access and operation.
6.Broad applicability:
Use in combination with other Satake milling equipment to process a wide variety of rice, including GABA and parboiled rice.
All Satake products are the subject of continuous development and, as a result, their specification may change and differ in detail from those shown.